WELCOME TO
MORGANS BROOK LANDSCAPING
---
Serving the Cape Breton Community since 1997, Morgans Brook Landscaping Inc., located in Baddeck, Cape Breton, Nova Scotia specializes in landscape design and construction, consulting, maintenance, snow and ice control and property management.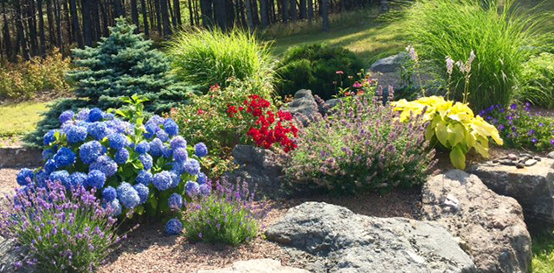 TESTIMONIALS

Like any new business arrangement even after what you think is adequate research about other parties involved, you never really know what you will end up with.
I want to tell you that on every level of service, Morgans Brook has exceeded my expectations. Your design perfectly states what we were looking for, specifically, species types and locations of trees, plants and hardscape has a perfect balance and in harmony with our surroundings. Also, the people that installed the hardscape and landscaping were extremely particular, made recommendations to us and asked us key questions when different conditions were encountered before they moved forward. Their care and understanding shows in the finished product. Same goes for the hydro seeding prep and installation. Also the follow-up maintenance has been impeccable.
Lastly the fact that you did not exceed your initial estimate, in fact we were under budget, was very pleasing to me.  
Lyn, you know I have been building high-end projects for a long time, and have come to expect clear communication, and for people to do what they say and when. You met the budget and our July dead line and the overall project looks incredible.
Nice job Lyn, it has been a pleasure. Thank you.
Best Regards,
Steve and Patty McGillivray, Iona

Stephen McGillivray
President C E O
805 648 1517 W
805 290 0455 C

Morgans Brook Landscaping makes us look good before anyone even steps into the house. Thanks to their skill and professionalism, this loyal old house enjoys a dignified, well groomed setting that not only wows our guests but also provides practical landscapes. They created a parking area, built a retaining wall beside the garage, and most recently, installed a slate patio bordered by a low wall built with local rocks from Middle River. We are thrilled! Thank you, Morgans Brook!

Liz and Dick Grubb
Baddeck Heritage House Bed & Breakfast